Submitted by

admin

on Tue, 2019-07-09 00:59
The Sydney Wharf Labourers Union was established in 1872, eventually leading to formation of the Waterside Workers Federation in 1902. In 1906, several unions came together toform the Seamen's Union of Australia. During this period, the world witnessed great maritime strikes, especially in England and Australia, which would set the stage for internationalism and class struggle.
---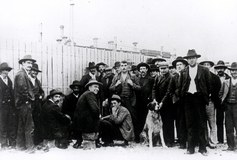 World War I heralded an intense three years. In 1914, the Commonwealth handed down a critical award, setting increased ages, overtime rates, payments for meal and smoko times, and,as important, safety requirements relating to weights and temperature limits. The maritime workers community was also embroiled in opposing a wartime-conscription campaign, which eventually would lead to the ejection from the union of Prime Minister Billy Hughes, who was also serving as the president of the WWF. In 1917, a nationwide strike erupted, lasting almost four months, with wharf labourers joining tens of thousands of other workers to protest low wages, high inflation, war profiteering and a general anti-union, conservative politics.
---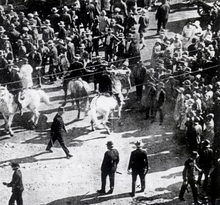 The infamous Transport Workers Act or 'Dog Collar Act', is championed by Prime Minister Stanley Bruce, whose government relentlessly attacked workers and their unions. The Dog Collar Act forced Wharfies to hold a special license to work. The license cost one shilling per year and, without one, waterside workers could not work. During mass demonstrations across the country in November 1928, Allan Prior Whittaker is shot through the back of the neck by police, and later dies, at Princes Pier Port Melbourne. Bruce was defeated in the next election, in 1929, paving the way for a more pro-worker Labor government just as the Great Depression loomed.
---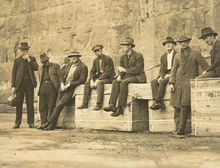 The 1929 Depression hits maritime workers hard. Thousands of maritime workers could not find work, and membership in the WWF dropped by half. The Hungry Mile, the area at DarlingHarbour in Sydney, teemed with maritime workers walking from wharf to wharf looking for work.